Outreach & Mission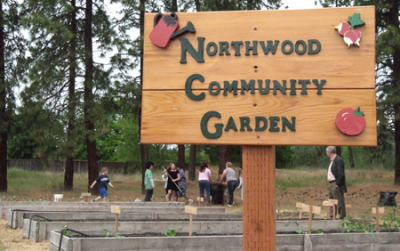 "Committed to… Mission & Outreach with the Good News of Jesus Christ."
IN TOWN. . . ACROSS THE NATION. . . AROUND THE WORLD
Could you be seeking a place where you can share in addressing the many spiritual and social needs facing the world these days?  Northwood shares your concern, and we work hard toward creating a world where the most needy among us have their basic needs met.
Share your time and talent as. . .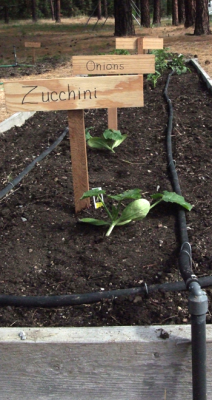 Drivers for Meals on Wheels  - delivering meals to homebound senior citizens each month.
 
"Farming" our on-site Community Garden - fresh produce for others.
 
Little Free Library -- free books to share with you and/or your family, find it by the steps to the front courtyard.  
 Close to home…  We are called to 'love your neighbor...'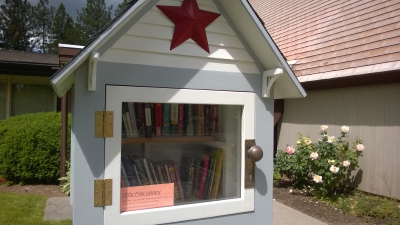 We support our neighborhood school, Linwood Elementary School, its students, parents and teachers.
Other local outreach projects include:
Christmas Angel Tree gifts for a Linwood School family & donating back-to-school supplies
Food drive always underway for the Mead Food Bank
After-school Homework Club during school year (now suspended due to Covid)
Camp Spalding - a full-service youth and adult camping ministry located near Newport, WA
Cup of Cool Water (local ministry to unsheltered youth) - financial gifts & collecting hats, scarves, gloves, socks & personal items
Family Promise Homeless Shelter - We have provided personal supplies for the homeless families - thanks for donating toilet paper!
We also have donated funds & supported Christ Kitchen, a local ministry to/for women just down the street on Monroe
Thank you to all who donated new household supplies for World Relief's ministry with local refugees from Afghanistan and now Ukraine
See us on Facebook anytime: "Northwood Presbyterian Church"
Sharing in special offerings that address a world-wide array of needs: 
Peace & Global Witness - local and world-wide programs; received on World Communion Sunday, first Sunday of October
Christmas Joy - for retired missional workers and ethnic schools, received the Sunday before Christmas
One Great Hour of Sharing - disaster relief, world hunger and Self-Development of People; received on Easter Sunday
Pentecost - for the benefit of children-at-risk; received on Pentecost Sunday
Northwood is thankful for our Deacons who serve our congregation and neighborhood with visitation, and by setting up Coffee Time and Communion.
And, we unite with Presbyterian churches throughout eastern Washington and the United States to provide monetary gifts for mission workers and programs at home and overseas.  
LOOKING FOR A PLACE TO HAVE A WEDDING, FUNERAL
OR SPECIAL EVENT?
Weddings - Northwood's North Monroe Street Sanctuary is a beautiful place to hold your wedding!  Please contact us if you'd like to have a Christian wedding here.  If you'd like more details or costs, please call the Pastor at the Church Office, (509) 328-2012, to get prices and to reserve a date as soon as possible.  
Funerals/Memorial Services – Our Sanctuary can seat a small group or up to 200 people for your family memorial or funeral service.  The average funeral cost varies, but can include the officiant, organ/pianist, sound, custodian and simple reception afterwards.  Please call the Church Office, (509) 328-2012, to talk to the Pastor regarding your service needs.  
Fellowship Hall – Our social hall seats up to 100 people at tables and can be used for all kinds of special events.  Please contact our Church Office for a current Fee Schedule and to reserve your date!
All fees are considered donations and worked out with the Pastor and/or our Building & Grounds Committee of our church.  Church members, of course, have reduced fees.  And, other than the Sacrament of Communion, we are an alcohol-free campus.
Northwood
Presbyterian
Church
6721 N. Monroe St
Spokane, Wa 99208
509-328-2012
email: office@northwoodpres.org
Office hours:  Tuesday-Thursday, 9-2
Pastor:  Rev. Susan (Sue) Keim
Worship Time Sunday Service:          10:30 AM Worship in the Sanctuary
We are having in-person worship!  Face masks are now optional throughout our building.  We do have self-serve bulletins/programs, offering plates, communion and touch-free hand sanitizer. 
Parents are welcome to bring children anytime if they'd like to attend worship with them and bring them up for the weekly children's message called 'Time for Young at Heart'!
Child Care is available each Sunday.
We have self-serve Coffee Time after worship each Sunday at tables in the Fellowship Hall.
We have live, self-serve Communion on the first Sunday of each month!
Please see our Choir, Special Music & worship videos on Facebook each Sunday! Or visit us anytime on our Facebook page:  Northwood Presbyterian Church 
Vocal & Bell Choirs rehearsals:
-6:00 pm HAND BELL CHOIR in the Bell Loft
-7:00 pm VOCAL CHOIR in the Sanctuary
FUN FRIDAY POTLUCK EVENT: We start again September 15, 6 PM potluck, Fellowship Hall Program: Christ Kitchen coming to share and sell items
Adult Small Group Bible Study on Mondays at 12:30 PM in the Fellowship Hall. New fall Study begins in September (watch for actual date)
Our prayers are with you and your family during this long pandemic: 
"God is our refuge and strength, a very present help in times of trouble."     (Ps 46:1)
ACTIVITIES BELOW ARE CANCELLED DUE TO THE CORONA VIRUS PANDEMIC:
-CHILDREN'S & YOUTH CHURCH after the Children's Message each Sunday during the school year.  
-HOMEWORK CLUB:  Your elementary-age child is invited to join us for free homework help during the school year, Mondays & Wednesdays, 3-4:30 PM, Fellowship Hall (children are walked down from Linwood School)
 -YOUTH GROUP (grades 6-12):  Sundays during the school year, 1:30-3 PM, Youth Loft, for more info:  youth@northwoodpres.org