Worship
"In response to Jesus Christ, we are a community of God's people who, through the Holy Spirit, are committed to Worship & Prayer." 
JOIN US ANY SUNDAY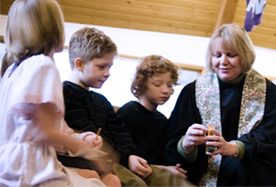 Our 10:30 AM worship service continues in-person with some Covid-19 Protocols:  face masks are now optional for our entire building (some available if you forget)! Please use self-serve bulletins, offering plates and touch-free sanitizer.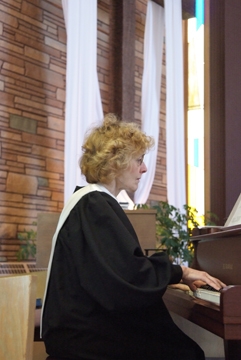 We also have Coffee Time (self-serve, at tables) in the Fellowship Hall after worship (we do allow you to bring your own refreshments into the Sanctuary).
We have self-serve Communion on the first Sunday of the month.   
 Please see us anytime on Facebook:  Northwood Presbyterian Church page.  Each Sunday's music is on there (we email the video links to our congregation; please let us know if you'd like to sign up for that email). 
We also have audio C.D.'s & worship bulletins from our Sunday services sent to our shut-in members (just call the Church Office if you'd like to be a part of this mailing).
CHOIR REHEARSALS FOR VOCAL CHOIR: 7:00 PM Wednesdays                        & BELL CHOIR: 6:00 PM Wednesdays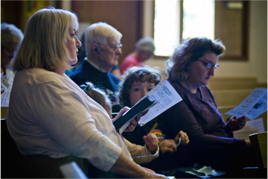 Please let Choir Director Bob Brown know if you'd like to participate this year!
Worship starts each Sunday at 10:30 AM during the school year and 9:30 AM during the summer. Our sanctuary is through the double doors at the left front of the building with additional parking in the back lot. Join us for worship on any Sunday!
Sunday morning worship at Northwood is the highlight of our life together.  As you come in, feel free to get a self-serve bulletin from a greeter (beverages are allowed)!
Worship includes a blend of traditional and contemporary elements. Our praise team begins the service with contemporary praise songs projected on screens.  We also sing hymns that go with the biblical theme for the day. Our worship is fairly structured, but we are relaxed, welcoming and informal. Worship also includes an insightful, relevant sermon each week, talented vocal and hand bell choirs and a time of prayer. Communion/Lord's Supper, which is open to all who believe in Jesus Christ, is served on the first Sunday of the month during worship and is self-serve until further notice.
After the 'Time for the Young at Heart' children's message each week during the school year, we have had Children's Church and Youth Church for ages 4 to Grade 12 with an age-appropriate Bible lesson and activity led by qualified staff (NOW SUSPENDED UNTIL FURTHER NOTICE).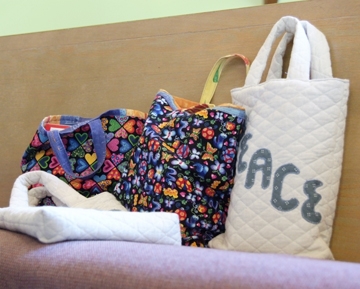 Child Care also is available during the service for infants and toddlers (through age 3). Parents may pick up their children after worship in the Nursery, located in the Christian Education hallway.  
During the service, we have special quilted bags with learning activities for our young worshippers.  
Our congregation enjoys visiting with each other and guests during our coffee time immediately following the worship service. Please join us for coffee, good conversation and great goodies!  We have Coffee Time (self-serve and at tables) in the Fellowship Hall after worship each Sunday!
Dress ranges from very casual to dressy.  Whatever makes you feel most comfortable will be appropriate.  
Our entire building is handicapped-accessible with a wheelchair ramp to the left of the sanctuary doors.  During worship, we provide hearing assistance devices and large print bulletins for those who need them.
We also have a baby changing station in our handicapped bathroom right next to the sanctuary for the convenience of young families.  
Northwood
Presbyterian
Church
6721 N. Monroe St
Spokane, Wa 99208
509-328-2012
email: office@northwoodpres.org
Office hours:  Tuesday-Thursday, 9-2
Pastor:  Rev. Susan (Sue) Keim
Worship Time Sunday Service:          10:30 AM Worship in the Sanctuary
We are having in-person worship!  Face masks are now optional throughout our building.  We do have self-serve bulletins/programs, offering plates, communion and touch-free hand sanitizer. 
Parents are welcome to bring children anytime if they'd like to attend worship with them and bring them up for the weekly children's message called 'Time for Young at Heart'!
Child Care is available each Sunday.
We have self-serve Coffee Time after worship each Sunday at tables in the Fellowship Hall.
We have live, self-serve Communion on the first Sunday of each month!
Please see our Choir, Special Music & worship videos on Facebook each Sunday! Or visit us anytime on our Facebook page:  Northwood Presbyterian Church 
Vocal & Bell Choirs rehearsals:
-6:00 pm HAND BELL CHOIR in the Bell Loft
-7:00 pm VOCAL CHOIR in the Sanctuary
FUN FRIDAY POTLUCK EVENT: We start again September 15, 6 PM potluck, Fellowship Hall Program: Christ Kitchen coming to share and sell items
Adult Small Group Bible Study on Mondays at 12:30 PM in the Fellowship Hall. New fall Study begins in September (watch for actual date)
Our prayers are with you and your family during this long pandemic: 
"God is our refuge and strength, a very present help in times of trouble."     (Ps 46:1)
ACTIVITIES BELOW ARE CANCELLED DUE TO THE CORONA VIRUS PANDEMIC:
-CHILDREN'S & YOUTH CHURCH after the Children's Message each Sunday during the school year.  
-HOMEWORK CLUB:  Your elementary-age child is invited to join us for free homework help during the school year, Mondays & Wednesdays, 3-4:30 PM, Fellowship Hall (children are walked down from Linwood School)
 -YOUTH GROUP (grades 6-12):  Sundays during the school year, 1:30-3 PM, Youth Loft, for more info:  youth@northwoodpres.org